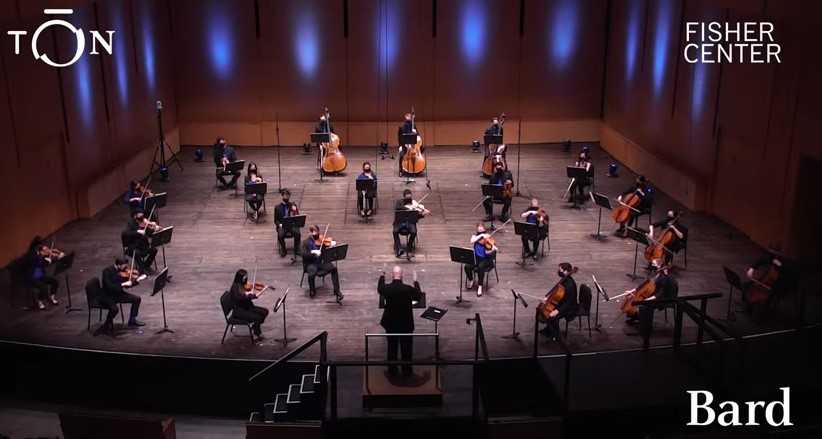 In the News
THE MILLBROOK INDEPENDENT: Mind & Heart—The Orchestra Now at Bard
"On Sunday afternoon at Bard College The Orchestra Now under the baton of Leon Botstein played an interesting live-stream program of music mostly not often played. They opened with a sure favorite, George Frederick Handel's Water Music. While there were merely twenty-three performers (Handel had fifty), TŌN sounded like fifty players with resonant unity and the exuberant joy which the work demands, echoing long after in one's ear.
After that delight they played the Chamber Symphony No.1 by Arnold Schoenberg. Not often played, the work offers an introspective plunge. Victor Tόth from Hungary (who introduced the work with pyrotechnic density) excelled with the large bass clarinet. This intensely intricate intellectual journey inward offered vibrant contrast to the sunny extroversion of Handel.
In Silvestre Revueltas' Cuauhnáhuac, percussive polyrhythms dance to dissonant, chromatic idioms and irregular progressions to achieve a neo-Romantic evocation of a landscape before European Colonialization. The strings in their unity delivered a unified mystery amplified by the flute of Leanna Ginsberg.
Metamorphosen by Richard Strauss, composed in Switzerland as U.S. troops overran Germany, is perhaps the most overtly emotional work that Strauss ever composed. An elegiac lament on the death of German culture, it offers a broad accessibility in its sentiment (much like his famous Alpine Symphony). This all-string transcendent performance certainly went under my skin. Amid the searching pathos, the cellos of Cameron Collins and Lucas Button stood out." —Kevin T. McEneaney